Laser Tattoo Removal
Have a tattoo you used to love, but now not so much?
ON2U is proud to be one of the best laser removal services in Saskatoon. It is now easier and safer to lighten and remove unwanted ink. Laser technology allows for the elimination of tattoo ink with limited harm to the surrounding tissue. Our Q-Switched YAG Laser uses a short-pulse beam of light to break up tattoo ink particles, allowing your body to easily flush them away.
The shop minimum for laser treatment is $50 per session (this may vary based on size, darkness and age of the tattoo). The number of necessary treatments differs for each tattoo. Often 2-5 treatments is sufficient to lighten a tattoo to be covered, while complete removal can take anywhere from 6-10 treatments. But results can be seen after just one treatment!
Since wait times between laser removals is longer than tattoos (eight weeks), opting to remove the entire tattoo is a larger commitment than getting it lightened enough for a cover up. It is also more difficult to remove color pigment than black pigment. Since everyone's skin is different we offer a free consultation with our certified laser technician to examine your tattoo, inform you of the process and offer a price quote.
For more information visit the Faq Below
&nbsp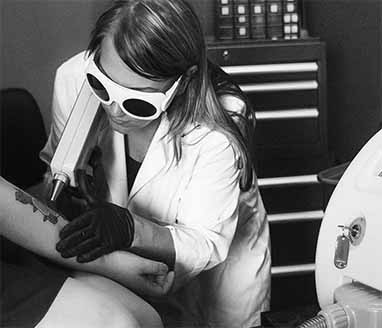 Laser Tattoo Removal FAQ &nbsp &nbsp &nbsp &nbsp &nbsp &nbsp &nbsp &nbsp &nbsp &nbsp &nbsp &nbsp &nbsp &nbsp &nbsp